Requiem For Shirine
by Ahmed Bensaada
Translation: Hope Jzr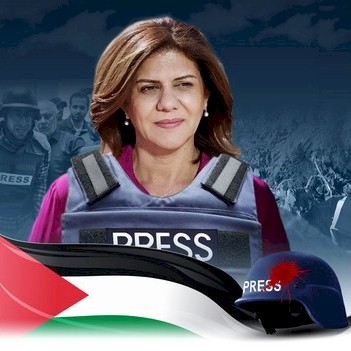 Shirine Abou Aqleh: Palestinian journalist murdered by the Zionist army on May 11, 2022
To the colonialist soldiery of the Jewish state:
You can target my eyes, I will always see your barbarity,
You can target at my mouth, I will always talk about your crimes,
You can target for my heart, it will always beat for my homeland,
You can target my face, I will always be more beautiful than your hatred.
You can strafe Mohammed Al Dura, in the arms of his father, his youth will live on,
You can stab Taysir Karaki 24 times in the back and slit his throat, his breath will continue to curse you,
You can ignite Ali Dawabsha, 18 months, the smell of his charred body will continue to suffocate you,
You can burn Ghada Abou Halima and his whole family with white phosphorus, their souls will continue to haunt your certainties.
You can beat the carriers of my coffin, they will rise to brandish it towards the sky of Al-Quds,
You can destroy my grave, my body will marry the land of my ancestors,
You can profane my grave, my bones will sprout like rhizomes across my land,
You can pulverize my bones, their dust will fertilize the soil of my ancestors.
And every spring, on the flowering trees that will spring from my tomb, birds will chirp: "Palestine will live, Palestine will conquer!" »
---
---